The Sea-Freight Pineapple Exporters of Ghana (SPEG)'s vision is to be nationally and globally recognized as a premier center for unifying pineapple and other fruit exporters for shipment, shaping policy and providing relevant services to the fruit industry.
SPEG is in the process of accomplishing these tasks to bring together operators in the pineapple industry and promote good agricultural practices and provide efficient, effective and economic logistics and marketing services.
Among the aims and objectives of SPEG is to get its members to co-operate in the marketing of their produce both locally and overseas.
It is to achieve this objective and take advantage of the growing market in the European Union and the Middle East that SPEG in the second quarter of this year initiated the following programmes: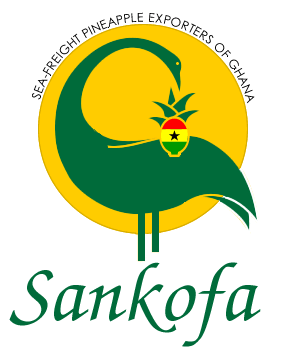 1. SPEG Produce Branding
This involves the design and use of a common brand by all members. Currently the "SANKOFA" design as shown on the left has been developed and is being used for exports.
2. Promotion of SPEG "SANKOFA DESIGN"
This programme involves the introduction and promotion of this new brand to current Buyers of Ghanaian produce and prospective ones in the major markets of Europe and the Middle East.
This is going to be done through participation in International and local trade fairs, for example the Fruit Logistica Fair in Berlin, Germany in February, 2012.
The brand will also be introduced in international fruit journals.
3. SPEG Common Marketing Scheme
It has been observed over the years that consistent high volumes of supplies of high quality fruits to the markets is the key to Ghanaian producers and exporters success in the markets by competing favourably.
In order to achieve this, SPEG has introduced the SPEG COMMON MARKETING SCHEME. This scheme involves the export of members' produce under the single "SANKOFA" brand to identified Buyers and under the same trade terms.
With this arrangement, the advantages of consistency, high volumes and ease in promotion and marketing will be achieved.
4. Local Quality Control Scheme
To be able to achieve the objectives of the introduction of the SPEG Brand, promotion of the Brand and be successful with the Common Marketing Scheme, it is critical that all shipments meet the required quality criteria and the minimum production and postharvest standards.
SPEG therefore is putting in place a Quality Control Scheme in which quality inspection would be undertaken at packhouses and the Tema Fruit Terminal prior to the export of fruits and at the ports of destination.